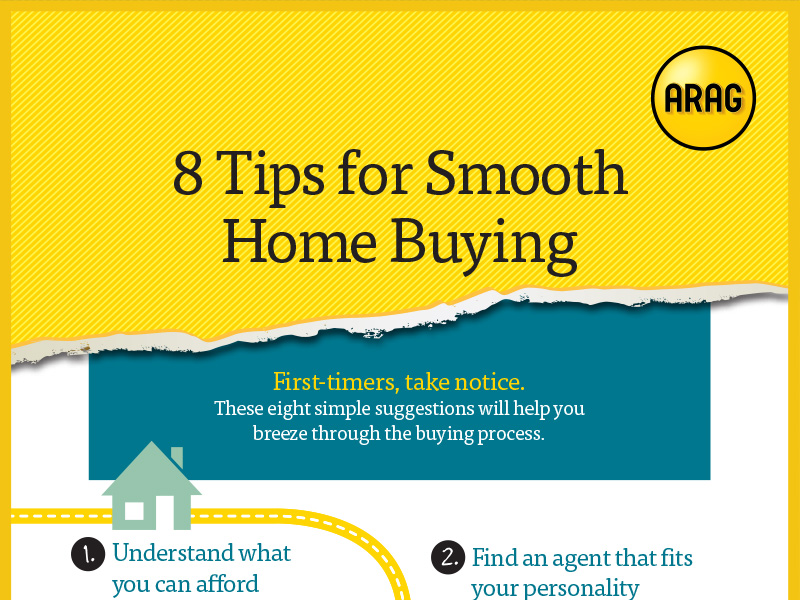 8 Tips for Smooth Home Buying
Buying a home involves a lot of moving parts. Here are eight tips to help you through the viewings, negotiations and everything in-between.
Download
Once you first begin considering when and how to buy a house, you'll likely get all sorts of advice — some helpful, some not so much. And while it can be a long process, buying a home is exhilarating, rewarding and a big commitment. Before taking the plunge, use this checklist as a guide to buy a house — and ensure you're prepared for the various steps in the home buying process.
1. Understand what you can afford.
How much money do you need to buy a house? That's the first question you'll want to consider, especially if you're buying a home for the first time. Before you start house hunting, you need to determine how much you can afford. Consider your income and existing monthly expenses.
There are several home mortgage calculators online that can help you figure out what you might be able to afford. Keep in mind that you will want to budget for not only the mortgage but also for new budget items that go along with owning a home, such as insurance, possible homeowner association (HOA) fees, taxes, landscaping and yardwork costs, utilities, repair costs, etc.
2. Find an agent that fits your personality.
You might think of this as an optional step on your buying a house checklist, but obtaining professional help can make the process of buying your home much easier. A real estate agent will be able to answer questions you may have, point out things to look for in the homes, help you make an offer and negotiate with the sellers on a price.

In addition, real estate agents are often more knowledgeable about the market value of other homes in the neighborhood and are aware of certain properties that may not be advertised to the public. If a bank or financial institution lists a new home, real estate agents are often the first to be informed, which can give you an advantage when finding a property before other buyers are aware that it's on the market.
3. Be picky but realistic.
No house is perfect. Focus on the things that are most important to you, and let the minor ones go. Try to visualize yourself in the home for the long haul.
When you begin shopping around for a home, the furniture, beautiful artwork and fresh towels in a home can easily make you fall in love with the style of the place or current owners. Try to look beyond this and focus on what is most important: the bare bones of the home itself. Try to envision the rooms without furniture to determine how spacious (or lacking in space) the property is. Examine the countertops, floors and walls for defects that staging may have camouflaged.
4. Factor in all your costs.
Your mortgage payment is only the beginning. You also need to factor in closing costs, property tax, and Home Owners Association (HOA) and homeowner's insurance. Not to mention basic upkeep.
If you are a first-time home buyer, there are a number of grants and programs available to help you find the right funding to purchase a home. Each state has different programs and first-time home buyer incentives to assist you with the buying process. Incentives can include qualifying for reduced interest rates if you meet income and property limits, assistance with down payment and closing costs, and a reduction in potential federal income tax liability.

You may also want to consider applying for an FHA loan, which is easier to qualify for if you have a lower credit score. An FHA loan generally requires a smaller down payment of 3.5 percent to obtain maximum financing.
5. Leave emotions at the door (and try to improve your credit score).
Don't get discouraged if you lose out on the first or second house, or if the seller won't come down in price.
Your credit score will influence whether you're approved for a home loan and how much you'll end up paying in interest. This is one of the steps to buying a house that can save you thousands of dollars over the years. You want a score of at least 700. Find out your score by obtaining a free copy at AnnualCreditReport.com.
How do you improve your credit score and deal with bad credit? Pay down your debt and keep your credit card balances under 20 percent of the available balance. Avoid closing any of your accounts, which can reduce the length of your credit history and will make you less credible as a borrower. And the most basic way to improve your score: pay your bills on time!
6. Practice your poker face and get pre-approved for a home loan.
Don't show the seller's agent all your cards if you've fallen in love with a house. Hang back and prepare to negotiate.
One of the many mistakes that home buyers make is failing to get approved for a home loan before shopping around. This can make it easy to fall in love with a property that you may not be able to afford. Most sellers are leery of accepting an offer if a buyer isn't pre-approved. They also may not want to wait for the buyer to get approved for the loan and can end up accepting someone else's offer in the process. To avoid this, meet with a lender before you start looking to get your financial questions answered and get the pre-approval documentation all lined up.
Your mortgage interest rate will have a major impact on the total price you pay for your home, so it's important to shop around for the right mortgage lender. Different lenders will have different offers on loan terms, interest rates and fees. Talk with several before you start looking for a home so you can get the best deal.
7. Get an inspection.
You'll want to hire your own inspector if you're considering purchasing a home and making an offer. Although the seller may hire an inspector to look at the electrical components and the structure of the home, the results of the inspection can still be influenced by the fact that the inspector is working for the seller.
This makes it important for you to hire your own inspector to ensure that nothing is overlooked during the process. If the results include mold that was discovered in the basement or a roof that needs to be replaced, for example, this may impact your negotiations with the seller on price.
8. Think long-term.
Is this your starter or forever home? Asking these questions can dictate the type of property you purchase, as well as the mortgage terms that suit you best.
One of the most important tips for buying a house is to research neighborhoods before you buy. You may fall in love with a home that has all of the features that you're looking for, but the location can detract from the value and pose a future problem. Research the crime rate in the area. Visit the neighborhood at various times of the day to determine how safe it is and how comfortable you feel at night.
When visiting, listen to how much noise is in the area. The property may be in a location that is loud only during the day but is quieter at night. Check to see whether the homes in the neighborhood are well-maintained, because those other homes will impact the value of your house over time.
Determine how close nearby schools, banks and grocery stores are, as this will influence how much time you spend on the road commuting or running errands throughout the week. Check into the value of the homes in the neighborhood and their recent sale prices. Look for properties that are similar in size and condition to the one that you're interested in purchasing to compare the value.