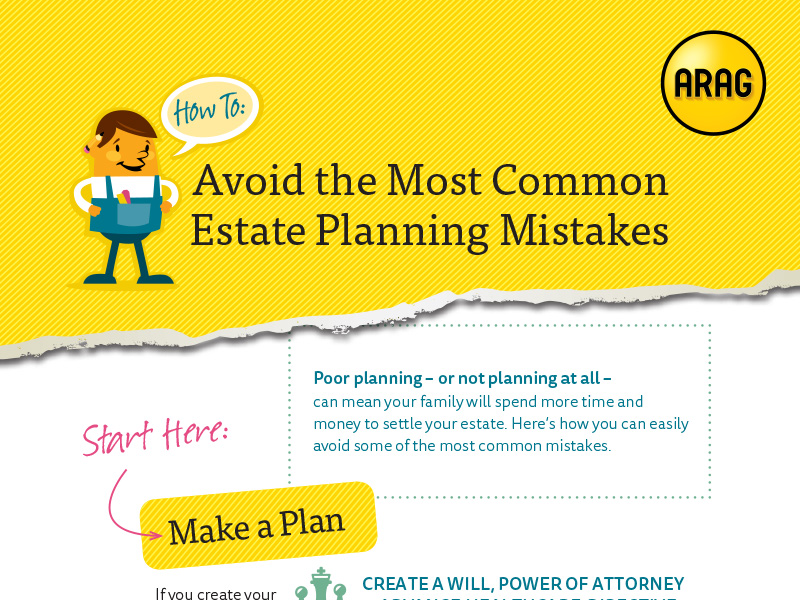 How to Avoid the Most Common Estate Planning Mistakes
Check out these common estate planning mistakes people make — and how you can avoid them by planning ahead and having discussions in advance.
Download
How to avoid the most common estate planning mistakes
Poor planning, or not planning at all, can mean your family will spend more time and money to settle your estate. Here's how you can easily avoid some of the most common mistakes.
If you create your will yourself, consider finding an attorney who'll review for a fixed fee.
Update regularly:
Review your documents annually.
Update documents if you….
Update beneficiary forms.
Helpful tips:
Consider legal insurance.
Offered by companies like ARAG, legal insurance allows people to contact a credentialed Network Attorney and complete estate planning documents more easily and affordably than thy could on their own.
Consider an attorney to avoid estate taxes.
Make sure your family, not the state, gets what you leave behind.
Make sure your living trust is funded.
If you create a living trust, it's important to retitle assets in the name of the trust.
Title assets appropriately.
Is the deed to your home properly titled? If someone will inherit the home, you might save money by adding their name to the title while you're living.
Consider long-term care.
Don't Forget…
No matter what your plan is, make sure to let your family know where your documents are and how to reach your attorney.