Are you looking for a legal plan that will help your employees handle their everyday legal matters, in turn making them more productive and engaged on the job? There are several options available to your company.
Here are the four major types of legal plans available:
1. Document Provider: Employees can create their own personal legal documents online to address common legal issues.
2. Discount Legal Plan: Employees receive discounted hourly rates on legal services through screened attorneys.
3. Employee Assistance Program (EAP): Employees have access to an initial free consultation for general advice; additional legal services are provided at a discounted rate.
4. Legal Insurance Plans: Employees pay a set premium and receive legal services from a plan attorney. Most covered matters for an insured legal plan are 100% paid-in-full when employees use an attorney in the network.
If you're looking for the option that gives your employees the most comprehensive coverage and covers the most legal issues, you'll want to go with a legal insurance plan. But legal insurance plans themselves vary widely in terms of what is offered.
So when you're looking at legal insurance plans, keep the following in mind:
Choice
Does the insurance provider offer more than one plan — either for you to choose one to offer your employees or for you to give the employees two options to choose from?
Does the plan make it possible for employees to choose how they interact with attorneys? (Online, over the phone, in an attorney's office, etc.)
Coverage
Does the plan cover legal matters if the employee is the plaintiff or the defendant? For example, although defense coverage is often provided by most legal insurance plans, coverage for plaintiff issues — which account for the majority of ARAG claims — is typically not provided by other providers.
Does the plan only cover certain legal matters? Divorce is consistently a top-five utilized legal coverage (and often very costly to employees who experience it), but some plans only offer legal advice for uncontested divorces.
Education
Does the plan offer access to online educational resources like guidebooks, glossaries, tip sheets and organizers? Are these resources available to all employees or just plan members?
Does the plan offer access to DIY documents? Are these documents state-specific and reviewed by attorneys?
Attorneys
Are network attorneys chosen individually (instead of selecting an entire firm) to ensure that each attorney meets the qualification requirements?
Is there an application process for attorneys to be on the network? What is selection of attorneys based on? Are network attorneys reviewed regularly to make sure they remain qualified?
Do plan members get to choose the attorney they work with or is an attorney assigned?
Does the plan make arrangements if there are no network attorneys near the plan member? What about if a member wants to use an out-of-network attorney?
Check out this chart to see at a glance how ARAG legal insurance compares to other plans and options.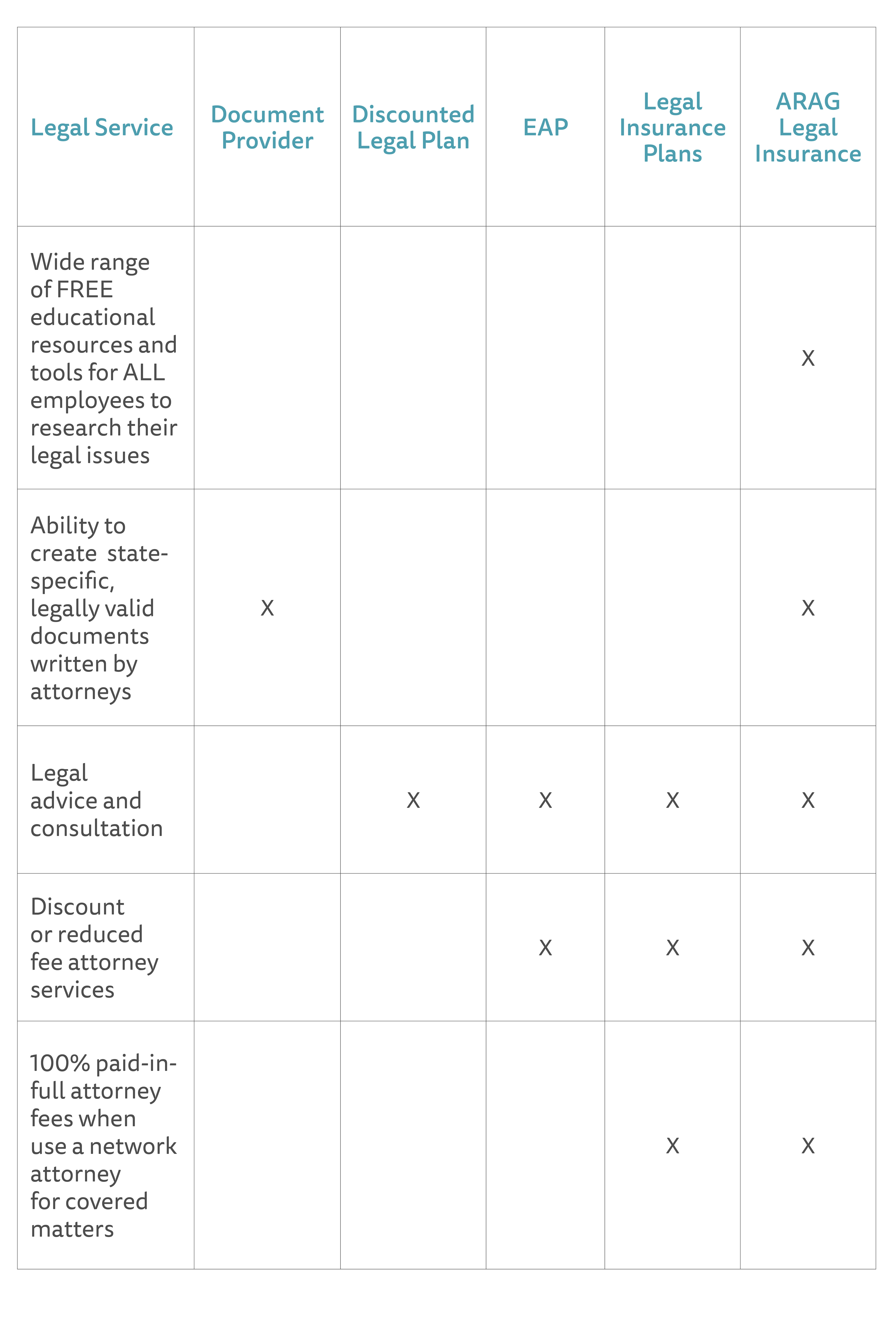 A legal insurance plan will help your workforce handle their legal issues faster and with less stress, making them more productive and happier at work. Contact us for more information.