I remember the first legal job I had (before law school) was as an "aide de camp" to a solo practitioner, a Harvard Law alum who ran a small practice in the Miracle Mile district of LA. He also had a driver for his town car and a personal assistant. He would dictate letters that I would take down on yellow legal pads with well sharpened Ticonderoga No. 2 pencils and he would correct them with red pencil. Sometimes it would take a day or two to get it right. Although this artisanal, bespoke approach could cut it if you had a single wealthy client, like my former boss did, it doesn't really work for the rest of us.
When I launched my own solo practice after working for a handful of law firms, I assumed I would do things differently and better than my former bosses had done. What I discovered though was that I was just doing the same old thing, the same old way. And things probably wouldn't have changed much but for one big crisis that affected us all: the Great Recession. Clients began spending much less and asking for a lot more value for their money.
Survival was the #1 reason I saw a need to change how I was running my law firm.
Today, a new crisis exists in the form of online legal service providers (such as LegalZoom® and Rocket Lawyer®, legal tech startups and artificially intelligent chatbots vying to displace solos and small firms. Michio Kaku, an American theoretical physicist and futurist opined: "The job market of the future will consist of those jobs that robots cannot perform."
"Being a good lawyer is no longer enough. These are uncertain times for our clients, in an increasingly complex world, in an industry facing disruption. We need to redesign how we deliver legal advice in a way that makes sense for our clients."
- Erik Scheer, Baker McKenzie executive and innovation committee member
What's a new lawyer, solo practitioner or small firm to do to attempt to stay competitive? Now, more than ever, lawyers need to automate their law practices to stay relevant and survive.
I took a hard look at what I was doing and recognized I could focus more energy on practicing law (and making money) if I could automate and thereby minimize the administrative obstacles that took an inordinate amount of sometimes unbillable time, such as:
Client communication (answering phone calls/emails from client)
Calendaring
Time tracking/billing
Client intake
File management
Documentation assembly
Here's how I tackled some of these time sinks....
Automate client documentation
We all have the same problem: How do you keep up with the avalanche of correspondence and documents that need to be drafted while at the same time ensuring quality work product? Automation is a way to ensure consistency, quality and avoid errors.
Case in point: Fee agreements
Before automation, I (just like my old boss) used to take a Word document for a fee agreement I previously used and find and replace the last client's name with the current client's name, modify the scope of services and scan to include or exclude provisions that may not be appropriate (e.g., conflict waiver for married couple if client is unmarried). Of course, this "save as" method risks that I potentially overwrite the prior document, forget to replace some things (like the client's name in a header or footer) and use language that is not standardized or vetted across similar documents. This manual approach also takes much more time.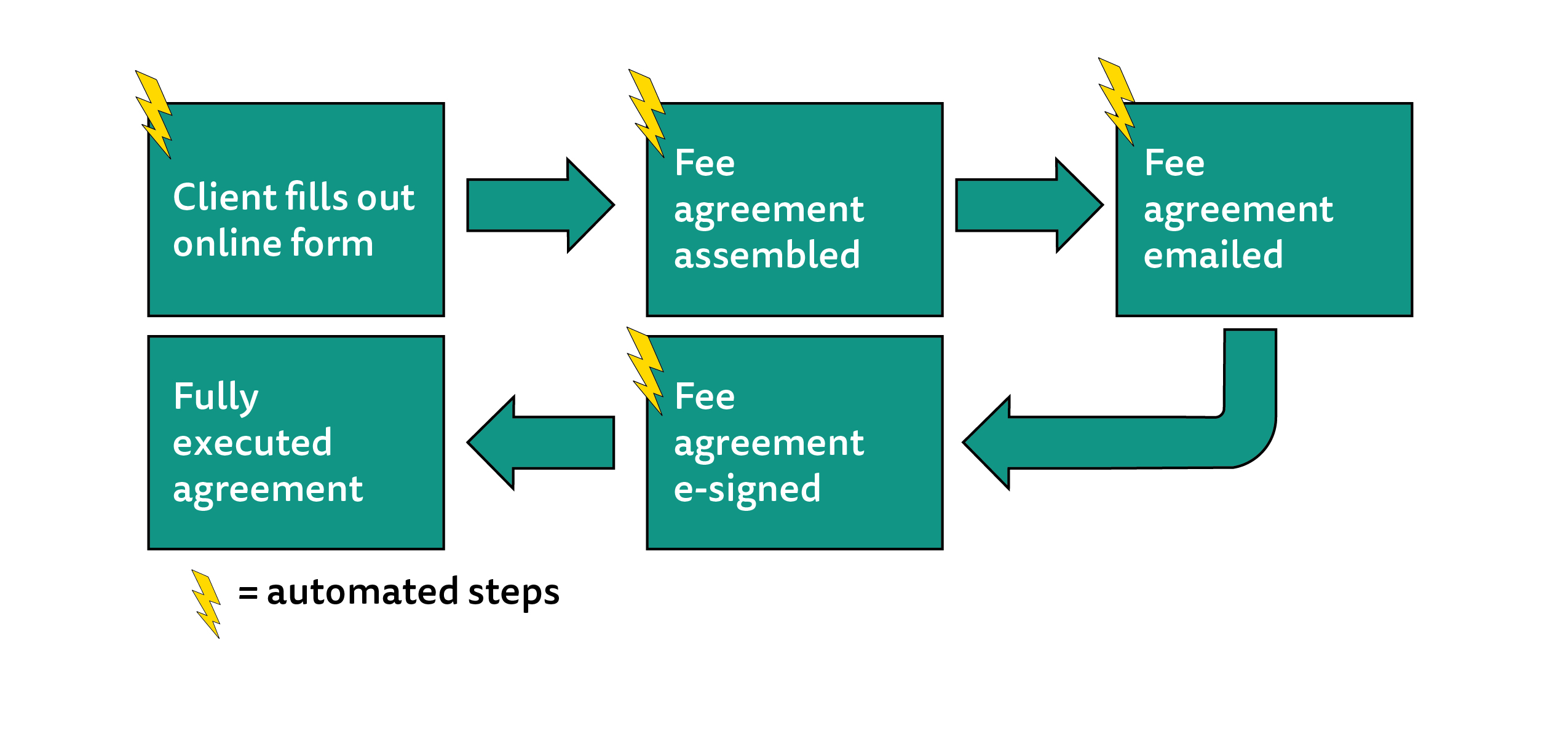 After automation, the information the client inputted into the online form I used to capture them as a lead gets inputted into a template fee agreement.
After automation, the information the client inputted into the online form I used to capture them as a lead gets inputted into a template fee agreement. I choose if and when the potential client gets emailed the fee agreement. The template fee agreement has fill in the blanks that get completed automatically with the information the client inputted. This allows me to use best practices once to create the template fee agreement and then reuse it again and again. As a bonus, my new process emails the fee agreement to the client so he or she can sign it electronically. After the client has signed the agreement, I am notified by email, I countersign it and both I and the client are emailed fully executed copies of the fee agreement.
In short, before automation I used to do the work. After automation, the client (and the automation I've designed) does the work for me.
The good news is you don't have to hire a freelance programmer to hack together a solution for you (like I did), wait weeks for the finished product and spend thousands of dollars in the process. Nowadays, there are many affordable off-the-shelf options available, including document automation available from directly within law practice management software such as Clio or online assembly platforms such as WebMerge. And with RightSignature, you can get signatures electronically.
An algorithm I've created and used to decide whether to roll my own solution or pay for the use of software someone else has created is the following:
➔ Is it available for free?
If yes, then use free.
If not available for free, how much does it cost?
➔ Can you build it yourself for less than total cost to use it for one year?
If you can, then build it yourself.
If you cannot, then pay for the subscription.
The reasoning behind building it myself (if it costs less than a year's subscription) is the advantage of having greater control over the solution and the effective cost savings of not having to pay someone else for years of use. For example, I developed my own solution back when HotDocs® monopolized document automation and charged a high premium for its software.
Automate client intake
How would you like to recapture time spent interviewing clients to get all the essential information you need to get started on their case? Or, more to the point, how much do you think clients would like to skip the inconvenient, time-consuming, cross-town meeting with a lawyer?
Case in point: Client interviews
Before automation, you and the client sit in a room for an hour or more while you painstakingly gather all of their relevant personal information. Sometimes the client doesn't have the information you need and needs to look for it at home and get back to you. Although this is an important opportunity to work directly with the client and impress him or her with your knowledge and value, the question is whether it is an efficient use of your time and your client's time.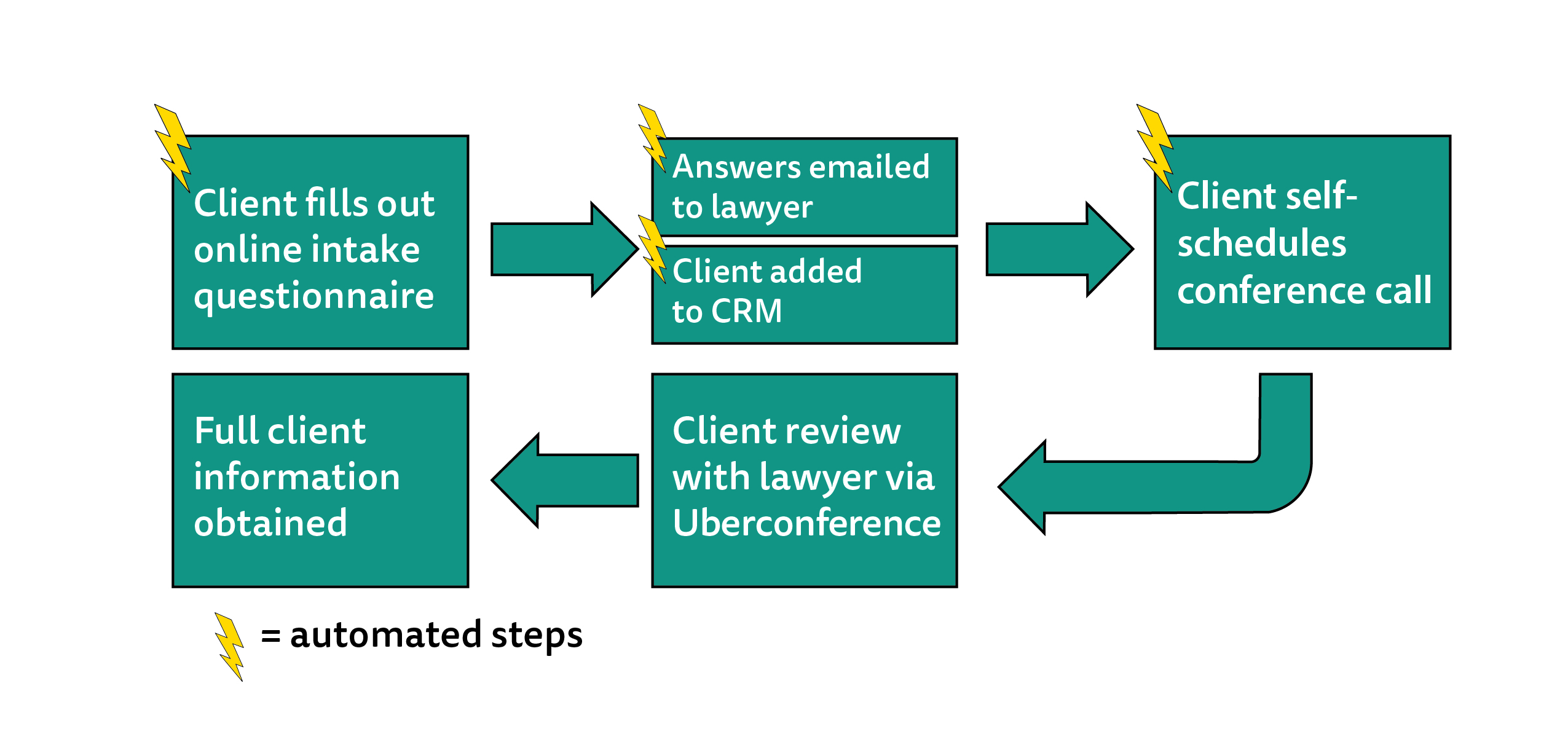 After automation, I email the client a link to an online questionnaire I host on my own website that is secured by bank-grade encryption. The client fills out the form and can save their work and return at any time. This allows the client to provide answers at their convenience and search for information they may not have immediately available. Once the information is fully inputted, I am notified and the answers are emailed to me and added to my CRM or legal practice management software. The client then receives an email with a link to my calendar (specifics redacted) so he or she can schedule an appointment with me for a conference call to review everything. Now, I can impress my clients with a full command of their situation when we do speak and I can focus on filling in the gaps and understanding the emotional lay of the land.
Tools I have used to create this solution are Gravity Forms for online questionnaires hosted on Wordpress-based websites, Acuity Scheduling for scheduling and Zapier, an excellent app that allows you to move information automatically between other web apps.
Automate client communication
Some days it feels like the flood of emails will never stop, doesn't it? It's all too easy for important client communications to get lost in the spam and administrative clutter in your inbox.
Case in point: email communications
Before automation, I handled email interactions with clients in Outlook. If the client had questions or needed guidance similar to what other clients raised, I created text files with standard responses I would cut and paste into emails to save a little time on drafting.
After automation, I receive the client's email in a separate system dedicated solely to handling client communications in a secure environment. I can prioritize requests, set deadlines and assign the matter for handling within my firm. If the client's email requires a standardized response, I can use one of many templated emails (or "macros") I've crafted for just such an occasion. And, then, with literally one click, the client is sent an email with exactly the information they need and in a timely manner.
Customer support solutions such as Zendesk or Freshdesk allow you to focus on client communications, manage requests, create template messages and track your productivity.
Conclusion
With automation, I have been able to spend more time with my family and earn more with less of a time commitment. As a lawyer, the value we have to offer is limited by our available time. We all start the day with the same amount of time to spend. Lawyers who make the best use of their time will succeed; those who don't won't. It is a waste of our time to spend it on reinventing the wheel when we can design it once and have it manufactured for us. I hope the examples I've provided you have excited you about what is possible. Our time as lawyers is well spent on coming up with creative and effective solutions to our client's legal problems. That is what we get paid for. The future is now. The time is now to automate your law practice. If you don't, you can rest assured your competition will.
Further Resources
The American Bar Association has published Blueprint, a free tool that helps solo and small firm lawyers find software and services they need to run their firm. Also, the ABA's Legal Technology Resource Center has a good, general introduction to document automation available here.