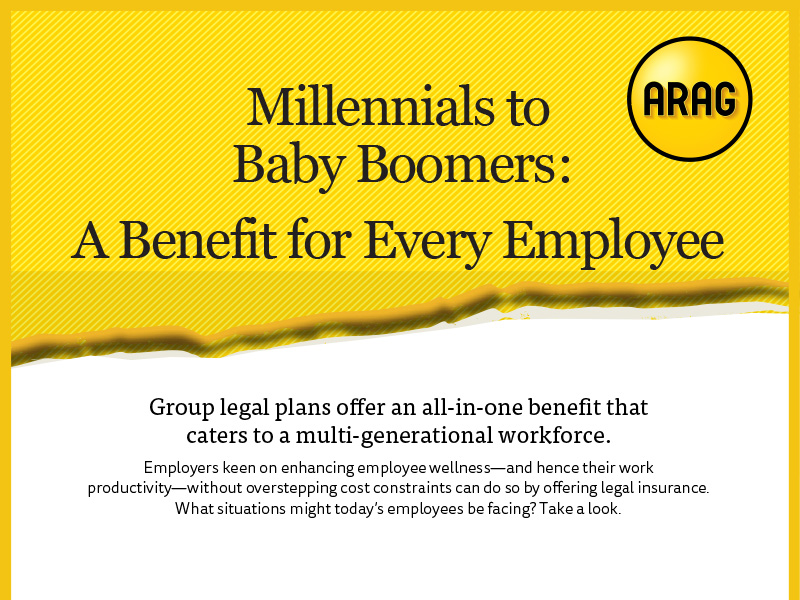 All-in-One Benefit for a Multi-Generational Workforce
Legal insurance is a versatile voluntary benefit that offers an-all-in-one solution for every generation of your workforce. See how it can help resolve legal and financial issues at each life stage and age, ranging from traffic tickets to identity theft, from contractor disputes to estate planning.
Download
Group legal plans offer an all-in-one benefit that caters to a multi-generational workforce.
Employers keen on enhancing employee wellness – and their work productivity – without overstepping cost constraints can do so by offering legal insurance. What situations might today's employees be facing? Take a look.
Millennial (1981-1999)
Victim of Identity Theft

Traffic Tickets

Starting a Family: Guardianship/Trusts/Will Preparation

Filing for Divorce

First Home Purchase
Gen X (1965-1980)
Bankruptcy Filing

Dispute with Building Contractor over Home Renovation

Life Insurance

Caregiving Issues
Baby Boomer (1946-1964)
Preparation of Advance Directives or Living will

Second Home Purchase

Estate Planning

Civil Lawsuit Resulting from Car accident