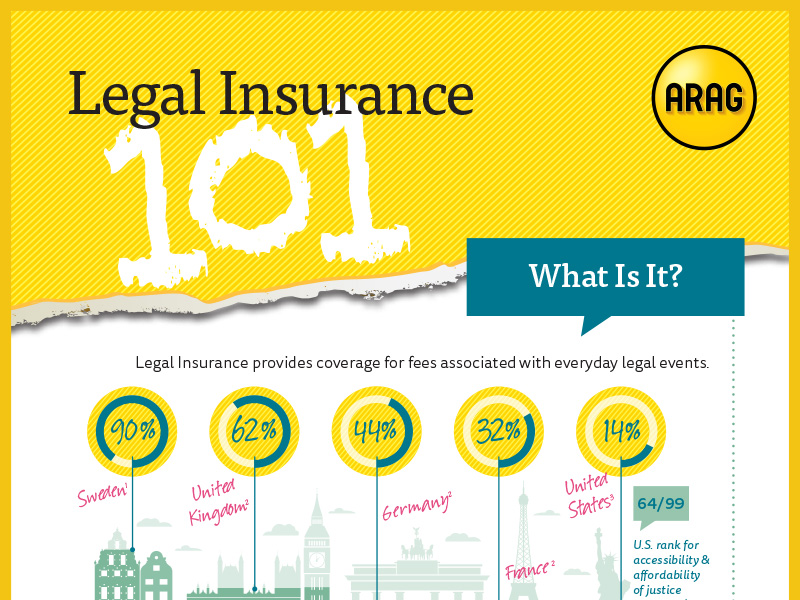 Legal Insurance 101
Legal insurance is an in-demand benefit across the world. See how it works in the U.S. — and how it can help you address common legal issues.
Download
What is legal insurance?
Legal insurance provides coverage for fees associated with everyday legal events.
People with legal insurance around the globe
90%: Sweden

62%: United Kingdom

44%: Germany

32%: France

14%: United States

64/99 -U.S. rank for accessibility & affordability of justice compared to other countries.
How does legal insurance work?
Experience a legal event.
Call or meet with Network Attorney, receive expert advice & representation.
File claim with insurance co.
Insurance co. handles billing.
Worry-free life.
If you decide to work with an out-of-network attorney, you are reimbursed for a portion of the cost of service.
Why have legal insurance?
87% of people with legal insurance feel it reduces their stress.
Legal insurance checklist
When choosing a legal insurance provider, make sure you compare policy features to find the right one for you.
Does the policy have 100% paid-in-full coverage, or just discount services?

Does the policy cover meetings with attorneys, or just phone calls?

Does the insurance provider ensure attorneys are credentialed?

What legal issues are covered by the policy? What are NOT covered?
Average legal fees without legal insurance:
Attorney fees for most legal events are 100% paid-in-full.
Attorney fees: $323 hourly

Debt collection issues: $2,717

Neighbor dispute: $1,534

Driving privilege protection: $2,584

Standard will preparation: $969
Attorney legal fees with legal insurance: $0