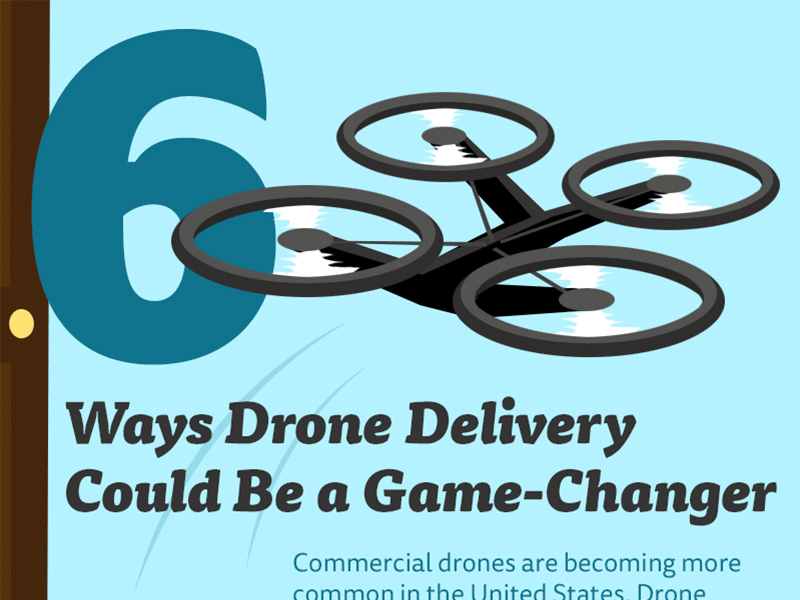 Ways Drone Delivery Could Be a Game-Changer
Soon, drone delivery services are going to be part of our everyday lives. Find out the changes drone delivery could have in store.
Download
Look – up in the sky! It's a bird… it's a plane… it's a drone! Drones, remote-controlled aircrafts or missiles also referred to as "unmanned aircraft vehicles" (UAV), have been used by the military for years, but recently there has been an increase in flying drones for commercial use.
The Federal Aviation Administration now allows companies to apply for certificates that allow them to fly "civil" (non-governmental) drones for research and development, including for agricultural and real estate purposes.
And now, Amazon® is working on Prime Air®, a "future delivery system … designed to safely get packages to customers in 30 minutes or less" using drone delivery. Although Prime Air isn't ready to launch yet, this drone delivery service will bring the following major changes with it:
1. Flying drones will change the outdoors.
This game-changer is at the same time the most obvious and the least truly predictable of all the potential impacts of drone delivery. Clearly, a world that features drones buzzing about the streets is not the world we live in now. However, drone technology for commercial use is still in its infancy and the details of Amazon's plan are largely unknown.
How many drones will Amazon (and its competitors) deploy? How often will drone delivery be used? Will noise be a problem? Will they ever crash? Anything could happen and only time will tell.
2. Impulse buys will flourish due to the speed of drone delivery.
Many retailers, such as Amazon, do offer same-day delivery now, making it easy to decide you want something in the morning and have it delivered by the end of the day. Prime Air's promise of "30 minutes or less" drone delivery is going to increase the temptation to push that "Buy Now" button even more, knowing that dress you "have to have" for the party tonight can get to you faster than the pizza delivery guy.
And keep in mind that these purchases probably won't be limited to your home. Just like with online delivery now, drones will be able to drop off that package wherever you are – whether that is at home, the office or traveling for business.
3. Neighborhood stores could be impacted by drone delivery.
You've run out of coffee. You're out of paintbrushes for your next painting project. Your printer just ran out of ink. Today you solve those problems by hopping in the car and driving to the store a few miles away. But in a future dominated by drone delivery, all it will take is a quick trip to a website and a few clicks of the mouse. No need to change out of your pajamas, pile the kids in the car and make the drive. Drones will bring necessities to you. This combination of convenience and speed could add up to big problems for brick-and-mortar stores.
On the other hand, drones will only have a certain area where they can fly to stick to the 30-minutes-or-less delivery promise. This means that the online retailers delivering the goods, like Amazon, will need more warehouse and dispatch centers sprinkled all over the country, particularly in urban and suburban areas. Maybe they will consider pairing up with brick-and-mortar retailers to fill those orders and double as a drone delivery dispatch center?
4. Drone delivery may decide whether robots will rise or fall.
The commercial use of drones is something that not everyone is comfortable with. Many drones today, especially those used by the military, are controlled by human pilots. Those pilots may be many miles away, but they go through complex training to learn how to control the drone device and what to do if something goes wrong. All indications are that Amazon drone delivery will be automated: Input coordinates and off they go, no further human intervention necessary.
Even when it's been shown that automation produces a safer version of some previously human-driven activity, not everyone trusts computers and their algorithms. Consider some of the problems that have occurred with self-driving cars: software can fail or cause collisions. Our acceptance (or lack thereof) of automated drones will speak volumes about our acceptance of similar robots elsewhere.
5. UPS®, FedEx® and the United States Postal Service® may see much tougher times ahead.
Amazon and other retailers deploy fleets of automated delivery drones the companies that handle the bulk of Amazon's deliveries now will end up losing quite a bit of business. When you consider that in 2015 Amazon did $1 billion worth of business with UPS, you realize this is not a trivial change. Currently, experts estimate that the United States Postal Service (USPS®) delivers approximately 40 percent of Amazon's packages. In essence, Amazon delivery services could become a competitor of UPS, FedEx and the USPS.
6. Your consumer rights may be impacted by drone delivery.
There are so many unknowns when it comes to the future of drone delivery, but you can be sure that consumer protection laws will be impacted. For example, what happens if the drone with your delivery is stolen? What happens if your items are damaged upon delivery? How will you return something that is delivered by a drone?
While the answers to these questions about drone delivery remain to be seen, you can brush up on your consumer rights today so that when delivery drones do take to the skies, you will be prepared.