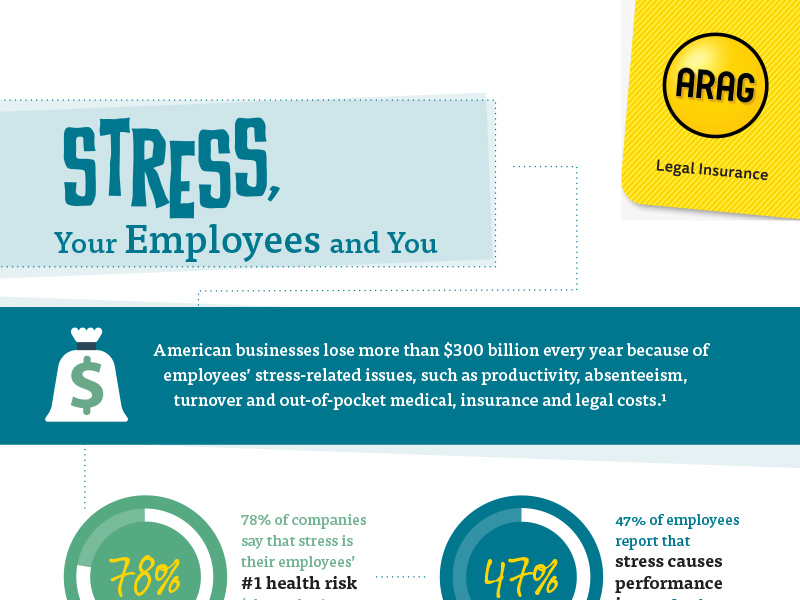 Stress, Your Employees and You
In order to help your employees manage their stress and improve their productivity (and your company's success), you need to identify what is contributing to the stress.
Download
Stress, Your Employees and You
American businesses lose more than $300 billion every year because of employees' stress-related issues, such as productivity, absenteeism, turnover and out-of-pocket medical, insurance and legal costs.
78% of companies say that stress is their employees' #1 health risk (above obesity, poor nutrition and tobacco use).

47% of employees report that stress causes performance issues for them at work.

3 out of 4 Americans experience one or more legal situations a year.
They feel very or somewhat stressed about:
71% Not knowing where to turn or how to get started

69% The time commitment necessary to deal with the legal issue

68% Understanding their options

67% The amount of money they may have to or have already spent

61% Finding an attorney to help
Employees with high stress:
2x more likely to have a heart attack

3x more likely to have ulcers

Experience 500% increase in anxiety and depression

All medical issues that can drive up your company's health insurance premiums!
Top causes of stress:
Work: Workload, coworker and boss tension

Money: Loss of job, legal and medical expenses, reduced retirement

Health: Terminal or chronic illness, medical emergency

Relationships: Divorce, death, providing care for children and parents
Stress less with ARAG
Employee
96% of people who worked with an attorney believed the attorney provided them the best outcome, decreased their stress or saved them time.

90% of ARAG plan members feel that having legal insurance reduces their stress.

ARAG plan members feel they save an average of 8.5 hours when dealing with legal issues thanks to their legal insurance.

Plan members save an average of $3,550 in attorney fees per legal issue.
Employer
92% of ARAG clients said that implementing ARAG was easy and efficient.

95% of ARAG clients find the ongoing enrollments are conducted with ease.