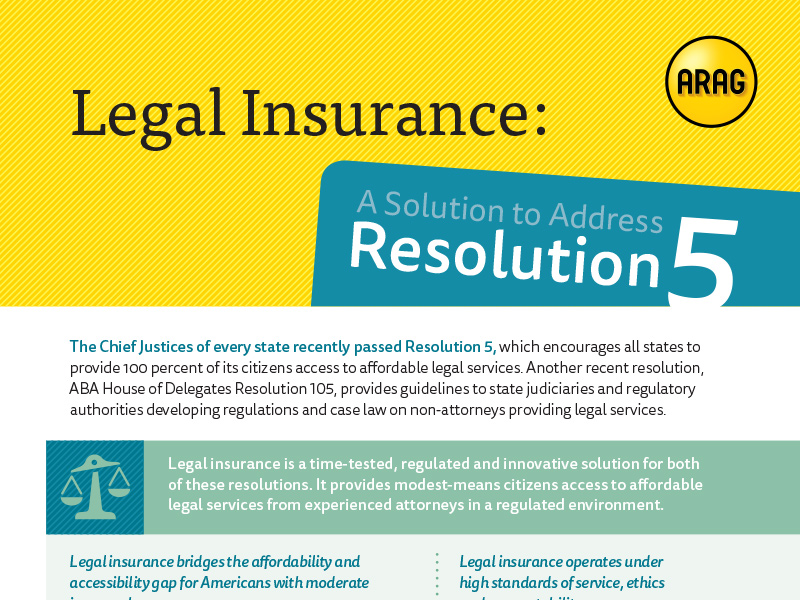 Legal Insurance: A Solution to Address Resolution 5
Learn what's behind Resolution 5 — and why legal insurance can fill a gap in affordable legal services Americans and attorneys alike are looking for.
Download
Legal insurance: A solution to address Resolution 5
The Chief Justices of every state recently passed Resolution 5, which encourages all states to provide 100% of its citizens access to affordable legal services. Another recent resolution, ABA House of Delegates Resolution 105, provides guidelines to state judiciaries and regulatory authorities developing regulations and case law on non-attorneys providing legal services.
Legal insurance is a time-tested, regulated and innovative solution for both of these resolutions. It provides modest-means citizens access to affordable legal services from experienced attorneys in a regulated environment.
Legal insurance bridges the affordability and accessibility gap for Americans with moderate incomes by:
Building awareness of legal issues: Online education tools and in-person resources help consumers identify when they have a legal issue, how to find the right attorney for their matter, and what to expect when working with an attorney.
Delivering affordable access to legal help: A diverse population of people are connected to a diverse population of experienced attorneys for legal help in a variety of client-focused ways, such as:
State-specific DIY documents created by attorneys.
Guidebooks and informational resources created by attorneys.
Phone calls with attorneys in their state.
In-office consultations with attorneys.
Legal insurance operates under high standards of service, ethics and accountability:
Experienced attorneys: ARAG's individual attorney selection process matches consumers with a diverse network of experienced attorneys who have met ARAG's ethical, regulatory and service standards.
Regulated partner: ARAG's insurance policies and certificates meet stringent federal and state laws, rules and regulations. ARAG is regulated in 50 states.
Client service feedback: ARAG provides client service feedback via surveys that are sent to all plan members following thier service.
The numbers show legal insurance works:
95% Satisfied Attorneys: 95% retention rate for ARAG's more than 11,000 active network attorneys.
88% More Referrals: 88% of people who use ARAG attorneys are likely to refer them to friends and family
90% Lasting Relationships: 90% retention rate for the more than one million individuals covered by an ARAG plan.
ARAG legal insurance supports the Bar Association's goals to:
Increase consumer access to legal services while helping attorneys gain new referrals.
Help attorneys grow their practice with clients who want a direct and ongoing relationship.
Provide free learning opportunities to help attorneys develop business acumen and high client service standards.
Identify a partner that is not in direct competition to their referral service.
How legal insurance works
Legal need identified: Clients have a legal question and find an ARAG Network Attorney through the online directory or by calling Customer Care.
Legal need addressed: Attorney helps member with legal issue in-office or on the phone.
Legal need resolved: Attorney submits claim online and receives payment within 10 days.
ARAG can help your State Bar Association increase access to legal services whil supporting your attorneys
Learn more about partnership opportunities with ARAG
Contact Nicolle L. Schippers, J.D., ARAG Associate General Counsel/Legal Industry Advocate, to discuss partnership ideas or invite Nicolle to speak at your next bar meeting.
nicolle.schippers@ARAGLegal.com
800-8889-4184, ext. 270